Coastal Bank and Trust
Emerald Coast Parkway
Destin, FL 32541
850.650.5011

www.coastalbankandtrust.com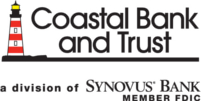 Coastal Bank and Trust is a division of Synovus Bank, one of the largest community banks in the Southeast. We offer powerful banking solutions with the personal touch of a community bank.

Visit us at any of our 24 convenient locations throughout the gulf region or online to learn more.


Redden Communications, Inc.
Investment Evaluation Services
6 Okeechobee Court
Destin, FL 32541
Phone: 850.217.3880

info@DestinDirect.com


We provide evaluations of investment portfolios including equities, bonds, privately managed accounts, mutual funds, exchange traded funds, annuities and other publicly traded securities along with evaluations of financial advisors & brokerage firms for investors, accountants, personal representatives & law firms. Expert witness services are available. We do not sell, promote or recommend any investment. Our staff has held numerous financial industry designations including registered representative, general principal and associated person with the National Futures Exchange. Clients have included private investors, banks, insurance companies, municipal governments & trust companies.

Map